We are well aware of our responsibility
Because we care!
One of our prime concerns is to bequeath the best possible world to future generations. Consequently, all Brückner Group companies are therefore working on ways to ensure that film and packaging are produced on their machines with the least possible use of resources and with the highest possible recycling capability
The plastic films and plastic packaging produced on the machines from Brückner Group companies protect the packed products securely from environmental influences. This extends the shelf life and reduces storage losses – good for the environment.
The Brückner Group is well aware of its responsibility regarding the environment and sustainability. This is why the "Yes, we care" initiative was launched in 2017. After all: Environmental protection begins at home!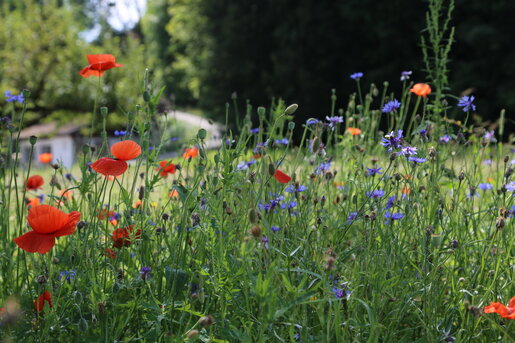 Circular Economy and the Brückner Group
Ambitious goals at Brückner Maschinenbau
Commitment to improved circular economy on many levels
Research & Development
Despite all the necessary developments for the recycling economy, Brückner Maschinenbau is also sticking to its ambitious goals for a further decrease in the use of raw materials and ever lower energy consumption in film production. Despite all justified demands for recycling and reusability, the challenge of climate change and the reduction of the carbon footprint within the entire packaging value chain must not be forgotten.
But of course, Brückner Maschinenbau researches and develops regarding the recyclability of films and the applicability of regranulates in film production. The cooperation with other participants of the value chain - from raw material suppliers to packaging and product manufacturers to recyclers - is essential. Materials research is carried out in Brückner's own technology center.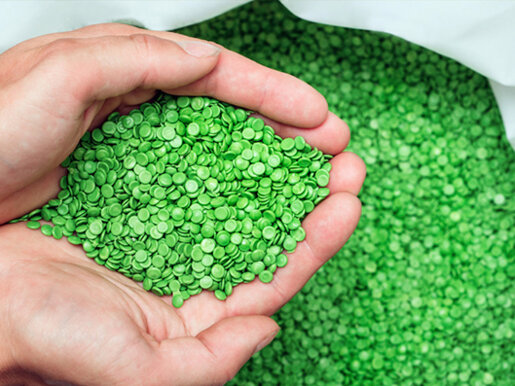 Biopolymers
Biopolymers have long been part of Brückner Maschinenbau's portfolio. However, packaging made from these raw materials is still largely a niche solution. Missing recycling streams, difficult sorting, high raw material prices and reduced processing properties set limits.
"Through our research we have developed the first elements of a 'bioplastics construction kit'. To create a coherent film concept, however, cooperation with an end user is essential". Dr. Martin Wolf, Laboratory Manager Brückner Maschinenbau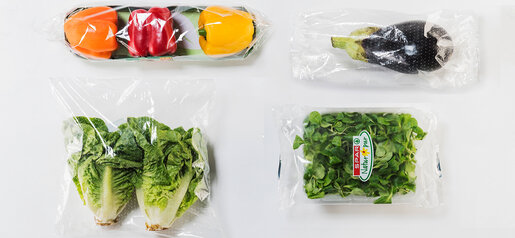 Monomaterial packaging
Since flexible packaging is often printed directly instead of being labelled, Brückner Maschinenbau - like all other companies in the Brückner Group - is part of the PRINTCYC project, which is investigating the effect of printing inks on the recycling process together with other participants in the value chain. Special ink types reduce negative odor or outgassing and have the potential to significantly improve the quality of the recycled material.
Another focus of research is the production of coated and uncoated mono-material films with excellent mechanical and optical properties that can replace previous multilayer films made of different materials. They are ideal for use in new packaging that is as homogeneous as possible and guarantee good sorting in waste separation and best recyclability. Exemplary here are completely new line concepts for the production of BOPE films (biaxially oriented polyethylene).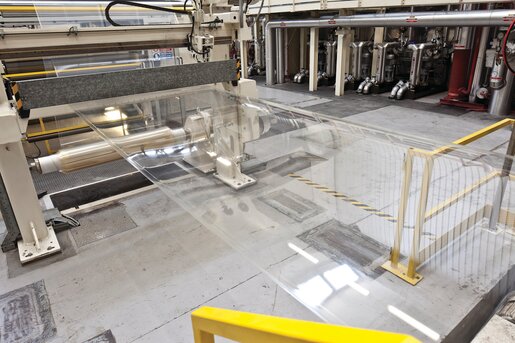 Upgrades for an improved Circular Economy
Modifications and specific updates
Modifications 
With modifications and specific updates, Brückner Servtec ensures that the latest products in terms of film types and materials can also be produced on existing lines. Due to the developments in cooperation with Brückner Maschinenbau, two major projects for an improved circular economy could recently be implemented, among others.
As mono-material films are becoming increasingly important, customers need appropriate equipment. For the films to have the same properties as multilayer films, the individual layers are treated with coatings (coating by vapor deposition), for example. A customer in Turkey had carried out successful trials with a PE film from Brückner's technical center, which he subsequently had metallized with a wafer-thin layer of aluminum oxide to achieve the desired barrier effect. Thereupon, Brückner Servtec upgraded the customer's line so that this step is performed during the stretching process. This saves energy and an additional process step.
"This PE film composite is directly recyclable with a foreign content of less than five percent". Markus Gschwandtner, CEO Brückner Servtec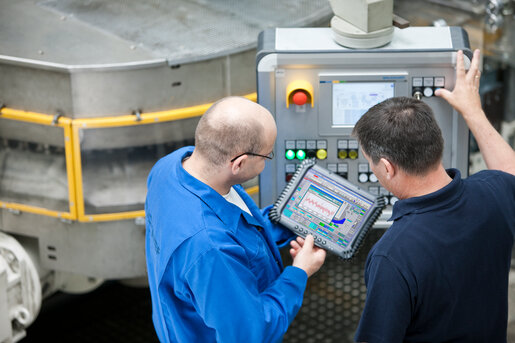 Hybrid line technology
In several successful projects Brückner Servtec has already converted an older BOPP line (for biaxially stretched polypropylene) so that modern BOPE films for recyclable mono-material packaging are now also produced. This hybrid technology allows our customers to flexibly enter new markets that are just emerging and are not yet profitable on their own.
In addition, Brückner Servtec, together with Brückner Maschinenbau, is part of CEFLEX and similar initiatives and organizations to strengthen the circular economy.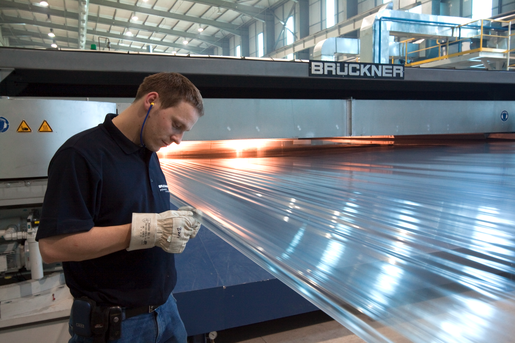 Packaging applications with a future
Cooperation and new ways
Cooperation along the value chain
Kiefel works with partners along the entire value chain to ensure that reduce - reuse - recycle does not remain just buzzwords. With the aim of closing the loop, Kiefel is working in various projects - together with material manufacturers, customers, etc. - to develop optimized and above all sustainable products and solutions for specific application requirements. This also includes cooperation with the Fraunhofer Institutes in Munich and Leipzig to find the best materials for recyclable or biodegradable products.
"Rethinking is our approach: We question how each product can be rethought in terms of design, functionality, material, composition and process optimization". Matthias Hausmann, Head of Central Development, Kiefel
In a plant park in China, Kiefel worked with several European recycling specialists on site to create a closed cycle for food packaging made of PET. For customers in the USA and Canada, Kiefel helped develop a solution for converting coffee capsules from polystyrene (PS) to more easily recyclable polypropylene (PP), which can fully meet the various technical requirements - including the right density for sink-float separation in the sorting streams.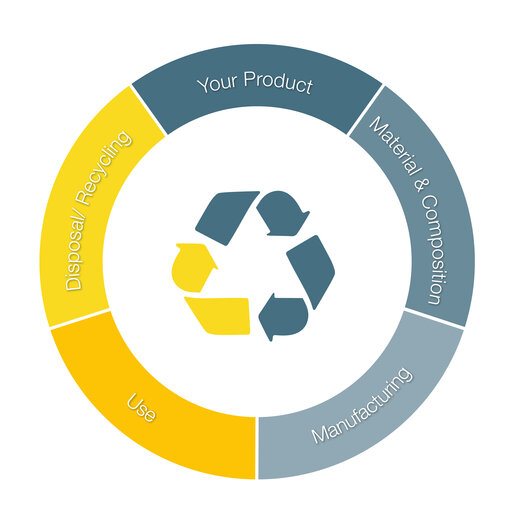 Already at the K 2019, Kiefel was able to present a foamed PET cup developed in cooperation with the extrusion specialist SML. Thanks to its mono-material structure, this cup is not only particularly easy to recycle, but its foaming technology also saves material. In addition, it is particularly light and heat-resistant up to 100° Celsius.
Together with its customer Faerch, Kiefel has realized "Color of the day" in Europe: a production of PET cups in the recycling colors of the day. For a long time, the consistent color of a product spoke for customers and retailers for consistent quality. However, recycled materials cause color differences that were previously compensated by additives. But thanks to the current zeitgeist, consumers in Great Britain now buy Faerch containers produced on Kiefel machines in the "color of the day".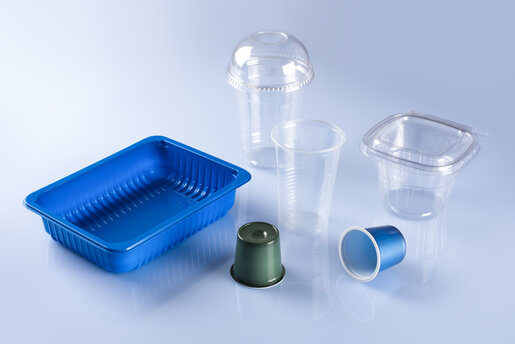 Packaging made of natural fibers
Sustainable packaging solutions with fiber thermoforming
In addition, Kiefel has developed a process to produce food containers and packaging made of natural fibers on its machines.
These high-quality packaging produced with Kiefel Fiber Thermoforming (KFT) can be optimally returned to the cycle via the wastepaper and are used, for example, for electronic equipment. The KFT products can also withstand hot drinks, food or constant moisture.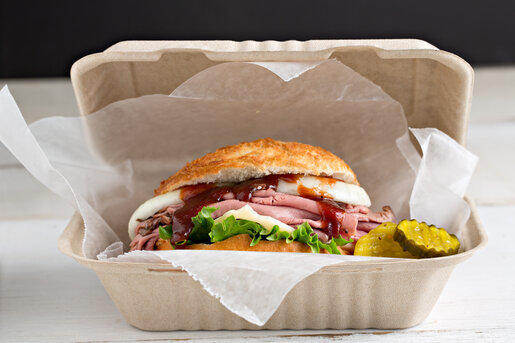 New technologies for sustainable products
Research, development and implementation
Membership in initiatives
PackSys Global is currently active in two initiatives for circular economy. The Tube Circle is an international consortium that brings together players along the entire value chain to close the loop for tube packaging as completely as possible. First, the reduction of materials is to be promoted. The second is to optimize recyclability and thus mono-material tubes. Currently, many tubes are made of polyethylene and the closures of polypropylene. What advantages would a pure PE or a pure PP tube offer? The third topic is to investigate the use of bio-based materials with the aim of further increasing the sustainability of tubes.
From the CEFLEX project (for flexible plastic packaging), the Plastic Squeeze Tubes initiative, co-founded by PackSys Global, has emerged. It focuses on the development of design guidelines for the recyclability of tubes in Europe and their compatibility in the recycling stream. The challenge is great: recycling streams in Europe are still very diverse and urgently need harmonization and consolidation. Since there are no separate sorting streams for tubes - as for many other types of packaging - the question is also what role the tube components play in the recycling stream.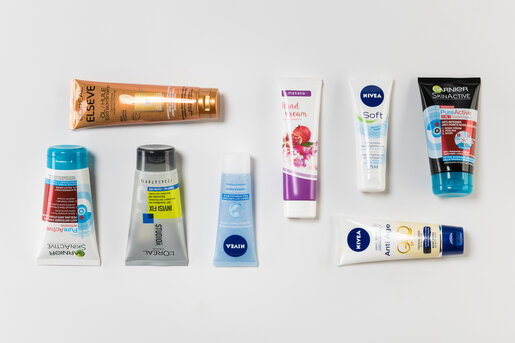 Direct printing instead of additional material
With PackSys Global's new technology for 360° printed laminate tubes, the company has already taken a convincing step towards more sustainable tubes. NEOSeamTM tubes do not require any additional material for labelling or side sealing due to direct printing and are therefore ideally suited for mono-material solutions.
"We want to strengthen the importance of tubes compared to other packaging. There is more than just the question of recyclability - an increased use of recycled materials is also important." Peter Schkoda, Head of Global Sales Tubes, PackSys Global
The question of the best material generally plays an important role at PackSys Global. For example, tests are carried out with recyclates produced by EREMA. PackSys Global machines can also produce tubes with different barrier layers.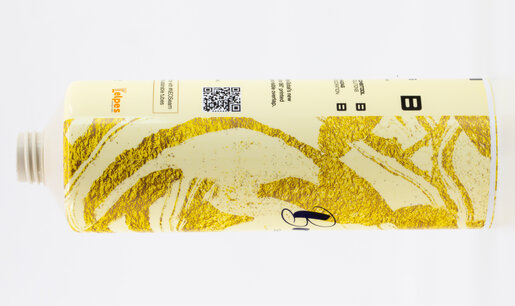 Everyone talks about responsibility
We live it!
The Brückner Group is committed to ethical and responsible trading and long-term value creation in its daily business operations. All our group companies are well aware of their ecological, economic and social responsibility. All employees accept this responsibility – out of conviction and in their own interest, now and in the future.

We practice active responsibility: Brückner has been leading by example for more than 25 years with its own company kindergarten, thereby showing how well work and family life can be reconciled. We actively express our sense of responsibility with our social funds for employees in financial difficulties, our staff development programme and clear, company-wide communication of our values.
We supply state-of-the-art technologies and solutions with high efficiency and minimum energy and raw material consumption. In this way, we contribute to environmental protection and the conservation of natural resources.

Interpersonal relationships – internal and external – are characterised by understanding and trust, openness and respect, reliability and integrity. Great emphasis is placed on real partnership and mutual respect at all levels.