Technology leadership
Pioneering spirit in the service of our customers
As a technology leader in all our business areas, we develop solutions for the markets of today and tomorrow. The constant striving for innovation, for perfection in detail, for the ideal solution - this is what secures our lead and thus that of our customers.
The basis for top technological performance are the challenges that our customers have to master and the resulting demands on us.
The foundation of our technological leadership rests on continuous research and development. To this end, all companies in the group use state-of-the-art technology and laboratory centres at various locations.
Technology and Innovation Centre in Siegsdorf
Unique R&D environment at our facility
Our Siegsdorf site offers an extensive R&D environment with pilot plant, laboratory stretch frame, laboratory extrusion, chemistry & film laboratory and Innovation Test Centre. Only a few steps away from each other, almost unlimited possibilities open up for new research and development projects.
Pilot plant
Whether BOPP, BOPET, BOPA, BOPS, BOPLA, MOPET-G, MOPS or numerous other types of film: the highlight of the Brückner Maschinenbau Technology Centre is the pilot line, which is unique in the world. Numerous film types with up to seven layers can be produced on it in all stretching modes:
Stretching in longitudinal direction, e.g. for tapes
Stretching in transverse direction, e.g. for labels
Biaxial sequential stretching for packaging and technical films
Biaxial simultaneous stretching for special films (special LISIM® technology)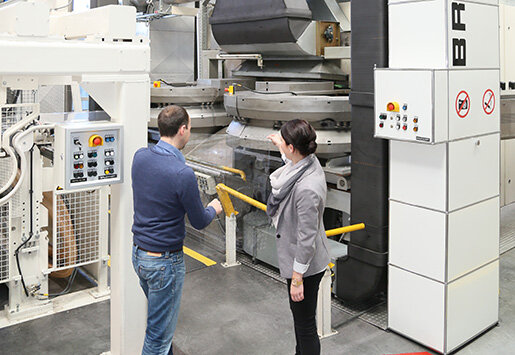 Laboratory stretch frame
With our laboratory stretching frame "KARO® 5.0" for mono- and biaxial stretching, films can be tested in a very simple and economical way - both in sequential and simultaneous stretching mode. The application possibilities are versatile:
Development of new film formulations and materials
Testing of new layers and additives
Identification of process conditions
Evaluation of film properties
Quality assurance for raw materials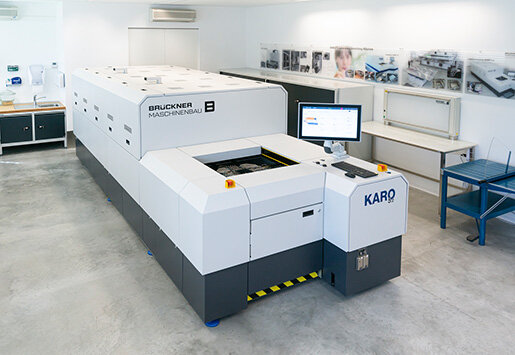 Laboratory extrusion
For the perfect formulation and the development of new types of films, we use our own laboratory extrusion, equipped with various components:
Twin- and single-screw extruders
Granulate, powder and liquid dosing, e.g. for the basic development of battery separator films
Extrusion for the production of single or multi-layer cast films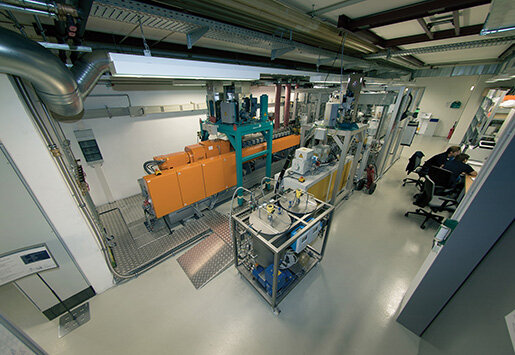 Chemistry & film laboratory
We and our customers have access to a state-of-the-art chemistry and film laboratory for the analysis of films, raw materials and components. In addition to comprehensive in-house research, our experienced laboratory specialists also train customers in on-site training courses or in Siegsdorf.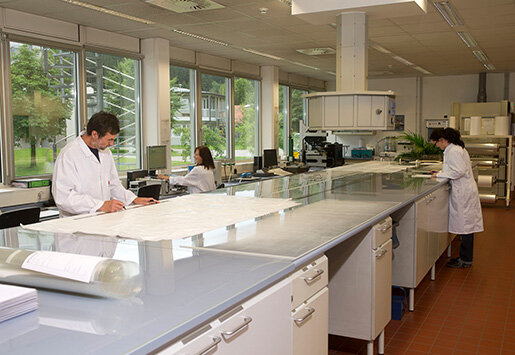 Innovation Test Center
In addition to R&D for the perfect film, we also put our system components to the test and continuously optimise our machine elements. Whether it's a high-speed transport system test stand, an oven test field or a roller test stand: the Innovation Test Centre leaves none of the components that are crucial for perfect film production untested, thus ensuring quality "Made in Germany".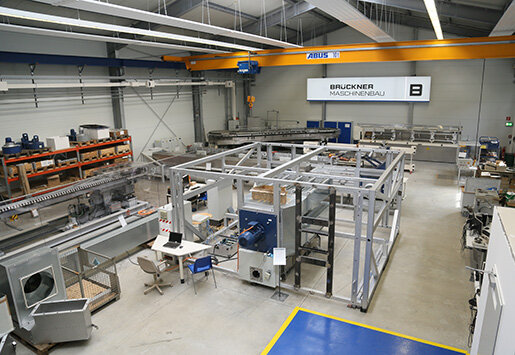 Measuring laboratory for inspection of chains and clips
At our headquarters in Germany, we have set up a professional measuring laboratory to inspect sample parts of our customers' chains and clips. This transfers our high quality level to all chain and clip refurbishment centers worldwide. The laboratory is equipped with the most modern cleaning and measuring devices.
State-of-the-art cleaning and measuring laboratory for clip and chain inspection
Professional and reliable analysis
Enables a better and more efficient planning of maintenance tasks at the film stretching line
Provides sound recommendations of cleaning service timing
Preserves your investment with the expertise of Brückner Servtec
Avoids needless maintenance stops and therefore leads to higher line availability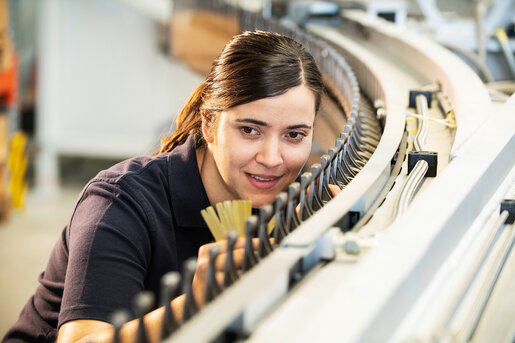 Kiefel Material & Technology Centres
Research & development at the highest level in Freilassing
Lighter packaging? Increased stability? Or can the material distribution be optimised so that the stacking height can be reduced? These are all typical examples of development challenges that we address in the area of research and product development.
With our material and technology centres, we drive our own research activities in terms of more sustainable technologies, processes and materials. As a result, our customers benefit from advanced solutions that are optimally tailored to individual requirements, from materials to machines.
Natural fibres
Material formulations & additives
Product development
Proof of concept & process optimisation
Barrier technology and coatings
Investigation of specific material parameters e.g. by electrical and chemical analysis
Various measurements, e.g. residual moisture, material compositions, combination possibilities
Basic research, e.g. use of agricultural waste, annual plants
Cooperation and research projects with universities, colleges, raw material suppliers, etc.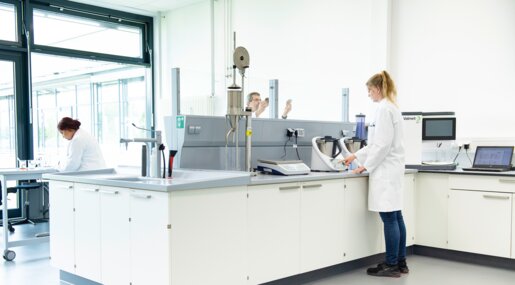 Polymers/biobased plastics
Material development

Thermogravimetric analyses (TGA)
Differential scanning calorimeter (DSC)
Melt flow index (MFI/MFR) and intrinsic viscosity
Density measurement, moisture and hardness determination

Product development

General microscopic investigations
Material formulations & additivation
Product design and functionality

End product testing

Tensile strength, impact test
Oxygen permeability (OTR), layer thickness measurement
Product measurements incl. statistical analyses

Pre-series production
Packaging Technology Centre
In our technology centres, various machine types for plastics processing as well as for the processing of natural fibres are made available for the production of samples and prototypes for our customers.
For demo and test purposes, a NATUREPREP KFP for the qualitative stock preparation of the natural fibre pulp and the machines of the NATUREFORMER KFT series are located there. A wide variety of fibre products, e.g. bowls, cups, technological outer packaging, coffee capsules or flower pots, can be manufactured on the KFT.
Plastics processing machines from the SPEEDFORMER KTR and KMD series for the production of cups and coffee capsules as well as tray packaging for foodstuffs will also be available there for test purposes and sample production.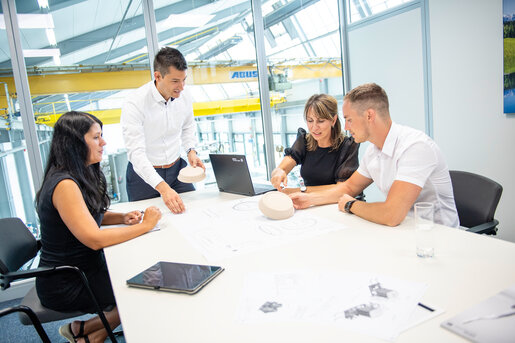 Medical Technology Centre
In our Technology and Materials Centre, we focus our research and development on sustainable technologies, processes and materials.
The focus is on materials research, process and product development, sample production and other PoC (proof of concept) services. Our customers benefit from advanced solutions that are optimally tailored to their individual requirements, from the material to the product to the machine.
Always one step ahead - with your medical and pharmaceutical products.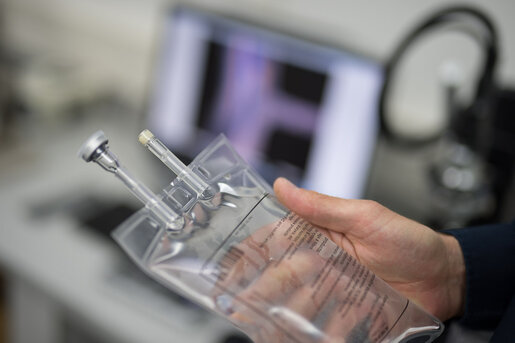 KREA Lab in Rüti (Switzerland)
Sustainability starts at home
The KREA Lab Centre is the highlight of PackSys Global's new headquarters in Rüti (Switzerland). It is a place where we use our expertise and machinery to develop new products that meet the needs and requirements of our customers. The focus is always on sustainability and the circular economy with the aim to reduce, reuse and recycle. At the KREA Lab Center, we develop, test and sample products in the field of packaging for the cosmetics, pharmaceutical, beverage & speciality industries.
Essentially, we distinguish between the following three production technologies:
Production of tubes from plastics and composite materials by longitudinal sealing of laminates, injection-compression moulding of tube shoulders and attachment of a tube cap/screw connection.
Hot stamping of products made of plastic, glass or metal (decoration)
Cutting and folding of the guarantee band in the production of plastic beverage closures
In total, there are about five tube machines, five hot embossing machines and three cutting and folding machines.
In the KREA Lab Centre and the associated laboratory, not only our research and development team but also our customers have the opportunity to try out, develop and thoroughly test packaging products made of various materials on our machines. We advise and support all visitors with our expertise and many years of experience in the choice of materials (laminate, plastic, embossing foil, etc.) and are also happy to demonstrate our machines under real production conditions. The KREA Lab Center is also available to universities and engineering schools. Students visit and use the KREA Lab Center to learn, research and work on their thesis.
Main objectives of the KREA Lab
To advance technology, process and materials research in the field of sustainability.
To provide our customers with the basis to pursue their future projects and to further develop themselves and their products.
To maintain market leadership in the field of new technologies and solutions.
The quality of our machines and technologies, which we successfully deliver all over the world, is our trademark and driving force. The team is focused and confident that even the impossible can be achieved with the constant nurturing of ideas, experience and expertise.