Always one step ahead
The basis for numerous partnerships
Our group companies are market and technological leaders in their respective fields of business. This success is attributable not least to the first-class research and development facilities available at the locations of the individual Brückner Group companies.
Research at Brückner 
Technology centre, pilot plant and laboratory facilities
Technology centres are a key element of our numerous partnerships within the industry. Since it was founded in 1960, Brückner Maschinenbau's strategy has included operating the company's own pilot plant for process and technology developments.
The laboratory facilities and technology centre enable:
Development of technological expertise for the market
Sequential or simultaneous stretching of a wide range of raw materials
Verification and validation of new system components based on state-of-the-art technology
Joint development projects with raw material manufacturers, film producers and processors
Research and development work
Pre-marketing of new films
Training of plant personnel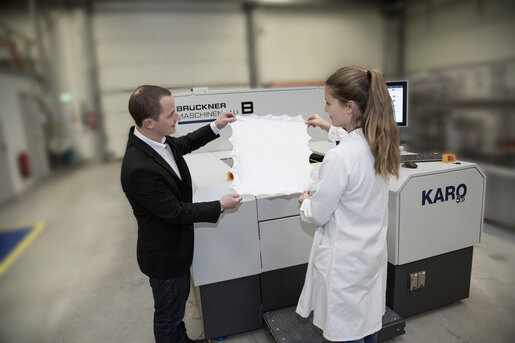 Tests under production conditions
Kiefel Technology Center
Research at the highest level in Freilassing
The modern Kiefel Technology Centre pools all the expertise and technologies in order to optimise customer service and customer satisfaction.
The Technology Center enables:
Fundamental tests with new materials
Customer-specific developments
Product development and prototyping
Process optimisation / material savings
Testing and optimisation of new machine components
Product quality tests in the laboratory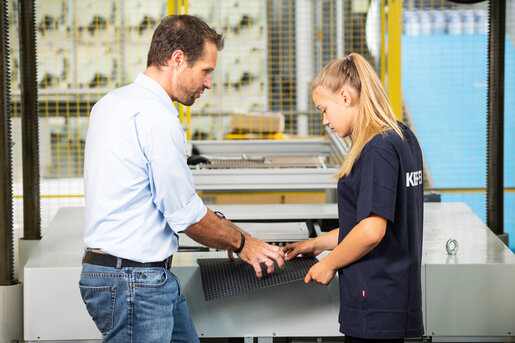 Kiefel Packaging's applied polymer research centre
The best choice for materials and product testing
Kiefel Packaging has established a research centre for applied polymers at its Dutch facility in Sprang-Capelle in order to support customers in the analysis and reference testing of polymer films and end products manufactured in the extrusion thermoforming process.
The research centre has yet to be certified externally, so the data provided can currently only be used for reference tests and analyses. Absolute characterisation is not permitted there at present.


Reference tests are currently used:
To support tool development
To identify extruded sheets for the commissioning of new tools and machines
To support materials and process development (e.g. heat-resistant PLA, thermally foamed PET processing)
To support raw materials suppliers with material characterisation before and after extrusion and thermoforming in a controlled environment
To assist processors with materials selection and specification
To gain an insight into the opportunities and possible benefits for using filler materials, multilayers, additives, biomaterials and heat-resistant materials
To advise and support customers with easier evaluation and optimisation of production speed
To identify end-use and performance requirements, to comply with industry regulations or to solve processing problems