Please note this information is only available in English.
The Brückner Group helps
Mask donations and an own, special mask production for the region
Protective masks and disinfectants are urgently needed everywhere to combat the corona crisis. This is also the case in the region where the Brückner Group is based.
Thanks to the company's own logistics know-how and with the help of our Chinese branch, Brückner Group China, Brückner has already been able to support the district of Traunstein with protective masks on several occasions. In total, more than 20,000 masks have already been handed over to the district. In addition, several litres of disinfectant as well as hundreds of disposable gloves have been handed over. The materials go to nursing homes, hospitals and doctors in private practice in the district.
The commitment of Brückner is to be continued. In the future, the company group will provide 20,000 protective masks per week for the district. Traunstein's District Administrator Siegfried Walch thanks the Brückner group for its donations: "The procurement of protective material is one of the great challenges in coping with the corona crisis. Seven days a week, we are fighting to provide the best possible care, especially for clinics, doctors' surgeries and old people's and nursing homes. We still have not enough material. This makes the incredible support extremely valuable. The donations help us enormously to meet all the needs that are reported to us."
Moreover, Brückner Maschinenbau – with the help of their customers Klöckner Pentaplast and sicht-pack Hagner – could organise larger quantities of film for the production of protection masks. The film was handed over to several local charities.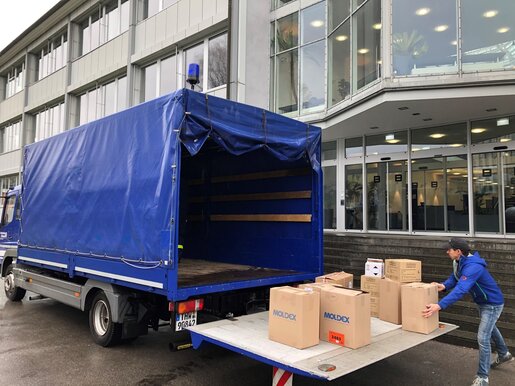 The Brückner subsidiary Kiefel in Freilassing also actively supports the Berchtesgadener Land district with protective masks and disinfectants. As a result, several thousand FFP2 masks have already been handed over to the District Office.
A contribution is also being made in the company's own production. For example, Kiefel produces face masks in cooperation with Hörl Kunststofftechnik – fast and effective. The punching tool was designed by Kiefel employees within a very short time and manufactured by the company HF-Zerspanungstechnik. The production volume is now 50,000 pieces per day. The masks are sent to surrounding clinics, medical facilities and doctors' surgeries and are distributed centrally by the crisis management team of the Berchtesgadener Land District Office.
Here, an incredible cohesion and a fast as well as unconventional cooperation can be seen! "Our colleagues are simply great," says Thomas Halletz, CEO of Kiefel. You can watch the whole interview with Thomas Halletz at plas.tv here (only available in German): https://www.k-aktuell.de/tv/kunststoffe-verbinden-eine-branche-haelt-zusammen-kiefel/