Please note this information is only available in English.
Red Dot Award for Kiefel and Brückner Maschinenbau
Excellent design for creative solutions
Brückner Maschinenbau's "Easy Operation" is a big step towards Industry 4.0 – an integrated solution for the efficient operation of our film stretching lines. The operating concept, developed in cooperation with the design office HMI Project, has now been awarded the Red Dot Award: Brands & Communication Design 2020.
"For our entire team, our partner HMI Project and also our customers this award is a great thing", says Wolfgang Zintz, Product Manager Software at Brückner Maschinenbau. "For years, we have been working continuously on the further development of our innovative operating concept and, above all, on providing the line operator with simple, safe and efficient control of the complex film production process. Marion Zintz, Product Owner at Brückner Maschinenbau adds: "Good design is no coincidence and impresses with simplicity. The Red Dot Award proves that we have succeeded in achieving good design and maximum user-friendliness".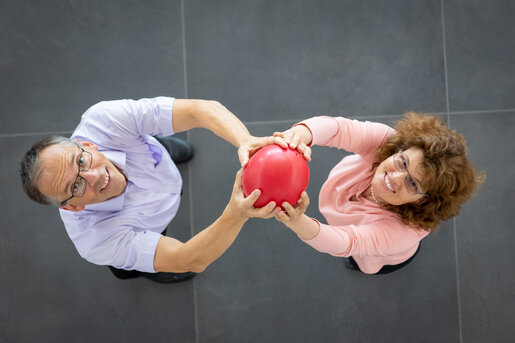 Kiefel receives the Red Dot Award together with CaderaDesign GmbH, a specialist for industrial and user interface design, in the same category for their "Modular and smart visualized HMI for Kiefel Packaging machines". In addition, the HMI (Human Machine Interface) is even awarded the special distinction of "Red Dot: Best of the Best".
"The proven predecessor HMI had been in use for 15 years and it was time to meet the increased digital requirements", says Christian Lang, project manager for the implementation of the new HMI. The Kiefel design of the machine visualization HMI manages like no other system to present complex machine data in an attractive and structured form. "It was important for us to visualize the entire machine status at a glance, to make the process simple and understandable with intelligent diagrams and animations, and to reduce the machine training time to a minimum," says Christian Lang.
The Red Dot Award offers designers, agencies and companies from all over the world a platform for the evaluation of design and is one of the largest design competitions in the world. The "Red Dot" award is an internationally highly respected seal of outstanding design quality. In 2020, 6,992 creative projects and brands from 50 nations were registered for the competition. Following the motto "In search of good design and creativity", the 24 international jurors evaluated the entries online this year and examined each work and brand professionally, individually and comprehensively. In doing so, they placed particular emphasis on the form, the idea and the effect. Only those projects that convinced the experts with their high design quality and creative performance were finally awarded a prize.